Kinky Curly girl Curly Clip In Hair Extensions 3B/3C
SKU: clipins-1bcurly-12100
-100% REMY human hair extensions
-Kinky Curly 3B/3C hair
- Natural Black, #1 Jet Black, #2 Dark Brown(If you want to color the hair that it would be best to choose the natural black)

Hair Specification For Regular Set:
7 Pieces, 23 clips
One weft (8") with 5 clips
Two wefts (6") with 4 clips
Three wefts (4") with 3 clips
One Wefts (1") with 1 clip
Hair Weight (not include clips):
12 Inch,14 Inch, 16 Inch 100 gram/set
18 Inch, 20 Inch 110 gram/set
22 Inch 120 gram/set
We recommend 1 set for adding extra volume. 2 sets for a full head to add volume and length.
- Can last more than 6 months with proper maintain
- Can be washed, conditioned, cut, colored, flat ironed
- Curly hair is the hair that has been tailored to match 3B&3C hair for black women.

RosyQueenHair Best Seller Curly Clip ins for American African, 3B/3C Kinky Screw Curls with Lots of Volume, It Is Tighter Than Jerry Curly Texture But Looser Than Afro Curly Texture.
RosyQueenHair Clip In Hair Extensions are made with 100% remy human hair with full cuticle. Remy hair is considered to be the finest quality of human hair because it is hand picked and aligned so that every single strand runs in the same direction that it grows from the scalp, we never use any harsh chemicals or silicones which leaves the cuticles intact, so the hair is soft, minimum shedding and non-damage. You can cut/wash/style/dye the hair any way just like your own hair. Jet black color can not be dyed again as it is the darkest color which is dyed by the permanent color.
Clip In Hair Extensions Benefits
Invisible: RosyQueenHair Clip In Hair Extensions are invisible that looks like your own natural hair.
Super easy to use: RosyQueenHair Clip In Hair Extensions are quick and easy to clip in It can be done in 10-20mins.
No damage: RosyQueenHair Clip In Hair Extensions are safe to wear and cause absolutely no damage to your own hair.
Instant length and volume: RosyQueenHair Clip In Hair Extensions are the quickest and simplest way to transform your hair from thin to thick and voluminous looks that you've always dreamed of in just few mins.
Versatile hair: RosyQueenHair Clip In Hair Extensions can be washed, blow dried, styled, and braided into ponytail with your own hair.
RosyQueenHair strives to provide a pleasurable shopping experience and superior customer service to all of our customers.

If for any reason you are not satisfied with the item you received, we are here to help you!
How to start a return
1.
Chat
with us to initiate your return.
2. Return instructions will be replied once receive your request.
3. Ship your item to designated address and give us the documents related to the return following our return instructions.
4. Once the package is received your return will be completed.
RETURN & EXCHANGE CONDITIONS *
We allow one free exchange for all US orders on all eligible products within 30 days from the date the order is delivered. Please see our return policy above for eligible products criteria.

For international order exchanges, there will be a $29.89 shipping fee.

Please contact our customer service if you would like to make an exchange on your order.

If you would like to exchange your order a second time, there is a 5% restocking fee.

If the exchange item(s) costs more than your first order, we will contact you to obtain the payment difference for the additional amount. Any exchange balance will be refunded to your original payment method.

Your exchange can only be processed after we have received your return.
*Subject to our terms and condition
FAQ
1. Can I cancel my order?
You can cancel your order BEFORE it's collected by the shipping carrier. If your order has shipped, please
contact our customer service team
to initiate a return.
2. How long do I have to make a return?
All return requests must be initiated within 30 days your package has been delivered.
3.Are there any items excluded from the return policy?
Accessories and beach towels can be only exchanged if there is a quality issue.
Items that have been worn, damaged, washed, are missing tags and/or hygiene seals, or altered in any way are not eligible for returns.
4. What should I do if I need to request a return?
To initiate a return, please
contact customer service
for an assessment. Upon approval, the return address will be emailed to you. Please note, items must be shipped back to the address provided by customer service, NOT the address on your original delivery.
5. What is my return shipping cost?/ Will you pay for the return shipping cost?
The customer is responsible for all return shipping fees. We do not offer Freight To Collect (FTC) services for returns.
6. How will I receive my refund?
Refunds are issued to your original account or as a RosyQueen Cash Coupon**, which can be used as store credit.
| | | | |
| --- | --- | --- | --- |
| Refund method | Cash Coupon* | PayPal | Credit Card |
| TIME FRAME | INSTANT | 3 Business Days | 3-5 Business Days |
** Items purchased with RosyQueen Cash Coupon are final sale and cannot be returned or exchanged.
7. Can I refund a Gift Card?
No, Gift Cards cannot be reloaded; used for payment outside of www.rosyqueen.com; used for unauthorized advertising, marketing, sweepstakes or other promotional purposes; redeemed for more than face value; transferred for value; redeemed for cash; or returned for a cash refund (except to the extent required by law).
If you have any other questions, please contact our customer service team via the Contact Us page.
Customer Reviews
LOVE LOVE LOVE
Great hair. I've been using this hair for abt two years now . It does not shed, tangle, or loose its coil . It's perfect. It naturally blends with my natural hair very well . It is great for all occasions. Ohh and did I mention that it is soft. This is my 3rd time purchasing it and there is many more to come.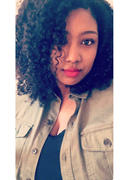 EXCELLENT HAIR!
Matches my hair exactly! Very good hair!
GREAT PRODUCT
Ive purchased this hair 11 times and counting and each time is great! I never have issues with it and it lasts a good amount of time as long as you take care of it. It's super softer straight out the package and there's no strong scent. The curl pattern matches my hair to a T. It's so good that I can even do a wash and go with it(which I rarely do). I'm a braid out and twist out kinda girl but either way it always looks great.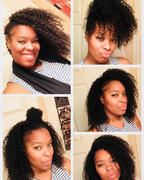 BEAUTIFUL HAIR
I have had this hair since March of 2019 and it is still just as amazing as the day I purchased it! I'm about to buy some new ones, but only because I want a longer length. The ones I have are still like new with the exception of the clips needing to be replaced because the coating is coming off!
BEST CURLY HAIR
Love love love these clips ins. They blend so well with my natural hair!!
BEAUTIFUL HAIR
As soon as I got this product, The first thing I fell in love with was the packaging!!! so cute!!! the hair is amazing it pops right back up when washed with Luke warm water. Hang to dry and apply leave in conditioner!! Heavenly. Can be used to make hair look bigger!!! an dit blends into my natural hair like it was meant to be. Knowing ones hair texture and which one to choose helps a lot. Cant wait to celebrate the one year hair anniversary of these clipins lol
EXCELLENT
This hair is Beautiful! Matched my own texture so well people kept thinking it was mine at work. I workin the beauty industry so I had to recommend this to many of my clients! This hair is a show stopper!!
BEST VERSATILE HAIR EVER
It's so natural and so real.. I love it!
EXCELLENT
I really love these clip ins they go so well with my hair..I plan on buying again.
THIS HAIR IS AMAZING, FEELS
I'm in love with these curly clip ins! I have worn them everyday for 2 weeks. I spray hem with water every so many days and the curls bounce back perfectly. I have found a new love!