Powerful function: hair tangle comb is auitable for African-Americans, also is helpful for people who has hair knots; The needles are round and the bristle is separate, which can remove knots and comb the curls without pulling the hair or damaging the scalp, waterproof and easy to clean
Improved workmanship: ABS resin makes the comb lighter than rubber material, nylon needles enhanced the durability and firmness, curved grip and matte surface makes it non-slip, easier to hold without falling off, more suitable for people of all ages in the family
Intimate design: hair detangler brush with a detachable bracket for fixing and stretching the bristle, whose back has 2 slots, different heights according to the hair condition; And there is a small cassette behind the grip to place some small rubber bands that are easy to lose
Massage effect: the middle of the body is grooved and streamlined; It has good elasticity and can fit the scalp freely; When combing, almost every tooth can fully contact the scalp, effectively massage the head and promote blood circulation
1. A confirmation email with all your order details will be sent to you once your order is received. And we will begin processing your order very soon. You can also track your order from your account page
2. A tracking number will be sent to you by e-mail once items shipped out.
3. Shipping details please check the following table.
| | | | |
| --- | --- | --- | --- |
| Shipping Method | Processing Time | Shipping Time | Cost |
| ECONOMIC SHIPPING | 1-2 Business Days | 25 Days | Free |
| STANDARD SHIPPING | 1-2 Business Days | 10 Days | $4.99 |
| EXPRESS SHIPPING | 1-2 Business Days |  5 Days | $19.90 |
Other Country *:
*Due to the current global pandemic, orders shipping to Russia is currently experiencing a long delay. For orders to Russia, kindly contact us before you place the order as we may not graduate the order to be delivered in the proposed timeframe.
All of our orders are shipped via DHL, FedEx, USPS, TNT, OCS, UPS, and other carriers depending on your location.
Note:
1) Delivery Time does not include the processing time required to process your order from the date your order is placed.
2) If you require customization or monogramming service, please allow for four or more working days in the processing time.
3) P.O. Boxes and Military Addresses (APO, FPO) cannot be delivered.
4) Make sure to confirm your shipping address before and after your order is placed, as later change of address may incur additional charges.
Customs and Import Duties
Sometimes the additional customs or import duties couldn't be avoided. But please don't worry. If any charged, please simply contact service@rosyqueen.com
1. Please send us a copy of the receipt of the customs duties via email.
2. Refund will be returned to you within 3-5 working days once get your receipt.
We offer easy, free exchanges for 30 days. If there's ANYTHING wrong with your order, please let us make it right!
Worried your item won't fit you? Made a mistake? Even with all the help we provide, it can happen. You have 60 days to ask for another size and we'll send it over - free of charge!
No need to worry about anything on RosyQueen - we're here to make things right ;-) Check this page out for more details.
Customer Reviews
Great for short hair too!
My husband has short but very close curly hair (Maybe Type 4C?) and he used to use a comb to get knots out. This would result in him tearing through his hair pulling out a good amount into our sink. With this brush he can easily go through his hair with no hair loss! It does the same as a comb but better! His hair looks more managed and fuller!
Love these
My mixed race, curly haired kids run screaming anytime we pull out a comb. These brushes get the job done quickly and with less tears. We own 5 of them now.
Much less breakage!
I was surprised how well this brush worked on my hair. I've been using a wide toothed comb for years but I tried this and had far less breakage. It does glide through the hair when hair is wet and helps a lot with detangling. My hair is probably 3C - 4A and very long and thick so I'm really happy I found this. Recommend!
Works Great on Thick Tangled 4C Hair!!!
I loved this brush! I had left in my braids for muuuuch longer than I should've and I could see a lot of tangled hair growth. I was very scared about detangling the knots so I bought two of these pink brushes to try and soothe the pain. I will never regret it!!! This made the process so much easier and quicker to do. It barely even hurt. Also I have extremely thick 4C hair so that's saying a lot. Combine the comb with some water and you're golden. The only complaint I have it that there's a clip on the back that keeps the comb's bristles together. Sometimes it'll come off but honestly it doesn't annoy me much. I've seen reviews where people put hair ties or bows around it and I'm gonna try it out next time I brush my hair.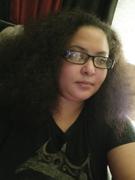 These are the most amazing brushes ever.
I will never use another brush on my curly hair or my daughters' hair (and their hair is CURLY). There is a HUGE lack of tears and a HUGE time difference between this detangling brush and others. This is amazing--I cannot say enough.
Didn't pull my hair
I love this I have curly hair and the first time I used it (yesterday 1-12-21) it was so much easier to detangle my hair. The other brushes I've sued that claim to be for curly hair pull my hair and take a long time to untangle this one didn't take much time I didn't pull hair out with it or anything I highly recommend this
Takes 1/4 of the time with 1/4 of the pain.
This brush goes through my hair in 1/4 of the time with 1/4 of the pain. I'm glad I received two. I'll keep one in my vanity and one in the shower. I was skeptical because these brushes were so affordable (I typically spend $15-$30 on a brush) but now I am sold. I'd recommend this to anyone, curly, wavy, or straight. I've always had a tender head. If you hate having your hair brushed or have a child who cries when their hair is brushed, these are amazing. The bars on the back can be moved to be stiffer or more flexible and the solid design makes it easier to clean (unlike paddle brushes that can get funky in the shower). Mine don't have the "cassette" on the back to store hair ties, but they work so well I'm not upset.
Works great, doesn't tear through hair
So I definitely don't have African American hair or even curly hair for that matter, but my hair goes down to my butt so I was looking for a good brush for long hair and this came up and I love it. I always feel like brushes tear through my hair and damage it which is a big no no when you're trying to grow your long hair to be even longer, but I spray some detangler in my hair and use this brush and it definitely doesn't tear through my hair in the same extent other brushes do. I definitely can vouch this is really good for long straight hair as well ??
Retiring my denman brush, only the best for my 4c hair
Love these. Have seen them around for quite a while. I am retiring my denman brush, these two are all I need. No pulling and excessive tugging at natural hair . Very easy to detangle accompanied with proper technique and the right products.
LEGIT: 4c Hair Dont Care
I have 4c hair and detangling is my least favorite task but with this brush I am amazed at how it does hurt and it detangles with finesse. Stretches and did I mention it doesn't hurt? I'm coming from swearing by my Denman brush. No brush full of naps like my Denman. If your hair is wet best believe them curl gonna be poppin'. Just imagine if I have product in. I did it on fresh washed slightly damp hair (my 4c hair sucks up moisture) and was am to comb from scalp to ends with little trouble. If I found a tangle the next run through and it was gone. Invest in this product you wont be disappointed.