RosyQueen Hair Straightener & Curler Comb
people have this in their carts right now.
This is the new generation hair straightener you have ever tried. With RosyQueen Hair Straightener Comb, you save more time to straighten your hair. Your hair will be transformed to straight when brushing. The Anti-Scald design allows you to reach more roots of your hair. Comparing the traditional straightening irons, RosyQueen Hair Straightener Comb provides you better results (shiny, healthy, silky hair) with more volume.
Product Features
5 temperature levels for different hair types(266°F-410°F)
30 seconds fast heat up
30 minutes auto-off
360°swivel power cord
International dual voltage 110-240V
Time Saver - Instant Heating
How much time do you have for hair? 20 min?
Our hair straightener comb can reach 350°F within 30s and ready in 60s, and straighten more hair at once with fewer comb passes thanks to the large triangle heating teeth, which has 24 gaps to take more hair and increases contacting area by 200% thus enhancing the effect of each pass.
All you need is a RosyQueen Hair Straightener Comb to help achieve the red-carpet-worthy look in 5 min!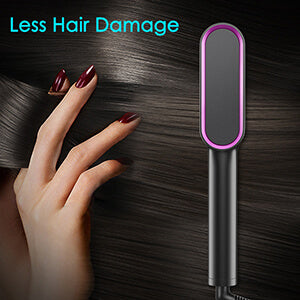 Damage-Free Styling
Our straightening comb can make hair a silky, shiny satin-like, reducing breakage and splitting by up to 50%. Restore your hair healthy, shiny and fine immediately.
Though hair straightening combs nowadays are much the same look, the same technology, the same results, and surprisingly every manufacturer seems OK with it, but not us.
We always strive on making quality hair straightener with a touch of modern taste as well as improving its functionality.
See, that's it.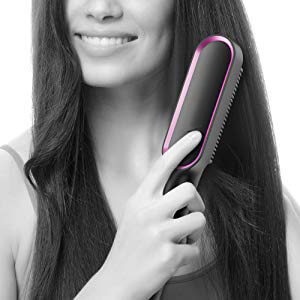 Silky Smooth & Overall Natural
Our hair straightener divides a large bunch of hair into 24 smaller strands and allows each strand to be fully caught between heat gaps, from roots to ends, making sure every hair is straightened to achieve an overall natural and silky look.
Turn on, wait for 60s, get the natural straight hair, walk out the door with confidence!
Say goodbye to hush and rush, get rid of frizz and split ends, and always emphasize the beauty of your hair!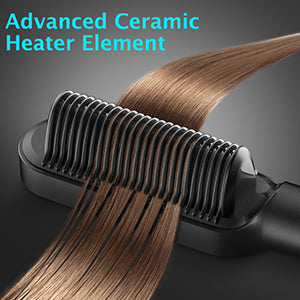 Uniform heating makes your hair more smooth & natural
Do you know the secret behind the smooth hair miracle? It was our most advanced heating components that ensure evenly distributed heat & damage-free styling, thus creating lush, shiny tresses.
Tips for you: Forcibly straightening your hair without detangling may cause hair to be pulled out. Please kindly detangle your hair with a regular comb first, as detangling makes straightening much easier & faster afterward and gives better result.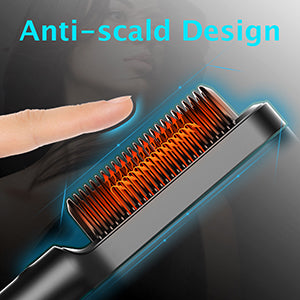 Anti - Scald Design & 5 Settings
Enjoy straightening anti from burning & shocking. The patented V-shape flame-retardant plastic frame will protect you from every angle.
We understand not all hair is the same. RosyQueen Hair Straightener Comb has 5 easily selectable heat settings. No matter what hair type you have, you can always find the right setting to tame it.
266°F - Soft & thin
302°F - Thin, fine / bleached
338°F - Dyed / dark colored
374°F - Normal / slightly curly
410°F - Thick, curly & wavy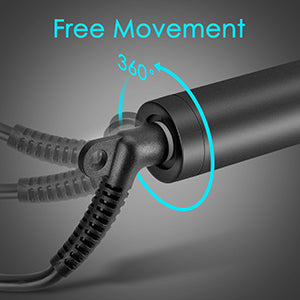 360° swivel cord
With 360° swivel cord, RosyQueen Hair Straightener Comb provides better access to the roots and flexibility at any angle, perfect for professional salon styling, travel & at home hair care.
Inspired by Bauhaus aesthetic, we made it modern and in style. When you look at yourself in the mirror, holding this sleek piece to straighten your hair, I bet you will feel satisfied. Now, just get this beautiful, unique and reliable masterpiece - RosyQueen Hair Straightener Comb!

1. A confirmation email with all your order details will be sent to you once your order is received. And we will begin processing your order very soon. You can also track your order from your account page
2. A tracking number will be sent to you by e-mail once items shipped out.
3. Shipping details please check the following table.
| | | | |
| --- | --- | --- | --- |
| Shipping Method | Processing Time | Shipping Time | Cost |
| ECONOMIC SHIPPING | 1-2 Business Days | 25 Days | Free |
| STANDARD SHIPPING | 1-2 Business Days | 10 Days | $4.99 |
| EXPRESS SHIPPING | 1-2 Business Days |  5 Days | $19.90 |
Other Country *:
*Due to the current global pandemic, orders shipping to Russia is currently experiencing a long delay. For orders to Russia, kindly contact us before you place the order as we may not graduate the order to be delivered in the proposed timeframe.
All of our orders are shipped via DHL, FedEx, USPS, TNT, OCS, UPS, and other carriers depending on your location.
Note:
1) Delivery Time does not include the processing time required to process your order from the date your order is placed.
2) If you require customization or monogramming service, please allow for four or more working days in the processing time.
3) P.O. Boxes and Military Addresses (APO, FPO) cannot be delivered.
4) Make sure to confirm your shipping address before and after your order is placed, as later change of address may incur additional charges.
Customs and Import Duties
Sometimes the additional customs or import duties couldn't be avoided. But please don't worry. If any charged, please simply contact service@rosyqueen.com
1. Please send us a copy of the receipt of the customs duties via email.
2. Refund will be returned to you within 3-5 working days once get your receipt.
We offer easy, free exchanges for 30 days. If there's ANYTHING wrong with your order, please let us make it right!
Worried your item won't fit you? Made a mistake? Even with all the help we provide, it can happen. You have 60 days to ask for another size and we'll send it over - free of charge!
No need to worry about anything on RosyQueen - we're here to make things right ;-) Check this page out for more details.
Customer Reviews
07/13/2020
Uche A.

United States
I recommend this product
Very good. Combed my thick hair
Very good. Combed my thick hair
Love it
I have fine, yet thick, bleached hair... and this thing is amazing. I watched a review on it and fell in love. Had it sitting on my wish list and finally worked myself into buying it. However, I had my mom and husband try it out and it didn work the same for them. My mom is a hair dresser with thick wavy hair. She thought maybe if she had washed and dried her hair it coulde went differently. My husbands hair was still wet and his hair is also thick and wavy... like make sure your hair is dry. He doesn understand. Lol but for me, I love it and it perfect for me.
Best straightener ever!
By far the BEST straightener I have ever owed and lord knows I have had many. I have thick coarse frizzy unmanageable hair. Normally it would take an hour or more to straighten my hair. With this? 15 minutes. 20 tops. One pass through each section and bam. Straight. No snagging or stretching. Once and hot. Amazing!I can say the only complain is the location of the power button. I tend to hit it and shut it off but worth dealing with.
So Worth It
I previously had a straightener brush that was very similar looking to this one. However, while it did straighten some I never liked how the hair would hang so I would also have to use another straightener with it. I love this one. My hair is still pretty thick at 70 so I usually have to make more than one pass through. But it makes my hair perfectly straight and I can be ready to go so much faster. I think you will like this one ladies.
04/07/2020
Joan S. Thibodeaux
DECENT HAIR STRAIGHTENER BRUSH
Pros:Quick to straighten your hair.Comes with a heat glove for protection which is a plus. This hair straightener gets too hot to the touch.Device is lightweight and doable.Cons:Please use a hair static serum because if you don't your hair with be staticky while using this devise.Does not do a good job trying to straighten the ends so you have to get creative to do so.At times a few hairs will get caught up while straightening your hair which is annoying.Another annoying thing is when you're holding the hair straightener brush, it's hard not to avoid the heat level button. I think it's sensitive to the touch and resets the heat level button.The price is high for what it's worth.Overall, I'm ok with this product and give it a few times to get used too.
Loooooove
Whaaaaat! This thing is AMAZING! It legit seemed too good to be true. I figured it wouldn't work for my hair because my hair is WILD. it's super coarse and insanely thick. I've had 3 different hair stylists tell me I have ethnic hair.... anyway, it totally works! I've straightened my hair with it twice so far in under 30 min! I LOVE my hair straight but never straighten it because it takes FOREVER. This is not even half the time!It does pull a tad, but heat protectant helps with that! I cant get over how awesome this thing is
Great Product! Highly suggest!
I purchased this after watching multiple product review videos and looking at ratings. I have super frizzy, dry thin hair and lots of it! I received it a day early and was so excited to use it! I used on day two hair ( two days after being washed) which typically is very dry and frizzy still if I haven straightened it. I did use It a 10 Miracle Potion on it while it was still damp the day before, but typically even with that it is still frizzy and dry looking. Typically when I straighten it, it looks great until I step outside. I live in Arkansas so it is very very humid here and it makes it like straight frizz rather than wavy frizz. So far I haven been able to test the difference out with this because of the coronavirus quarantine, but it looks silky and shiny so I don think I will have the same issues. The brush was easy to use and worked surprisingly fast. I only had to do one pass on most sections of my hair and these results were only on the third heat setting! With most I have to heat it to the highest setting. I did notice that close to my scalp it did feel hot a couple of times, but no more than with your average straightener when trying to get close to the roots. I kept it to small sections so it would glide through easily. Some reviews said it pulled at their hair. While I did lose several strands of hair, it did not pull by any means and it was no more hair loss than when I straighten it with other straighteners and much less than when I brush it with a regular brush. Overall I think it a great straightener and I did not expect these awesome results with a straightening brush! I can wait to try it a few more times to see if I can perfect the process!
Cuts styling time
I saw this reviewed on Facebook and decided go for it. I loved it immediately. I have a lot of fine moderately curly hair that does not air-dry nicely. This smooths the hair beautifully for me when the hair is mostly dry to completely dry.I've also brought it twice to the salon I go to, and the stylists had a lot of great comments as they tried it out. It cuts styling time by a lot!
This works great and is fast!
I have long hair that can be frizzy and is wavy with some parts more/less curly. I typically straighten or curl my hair and use a straightening iron to do both. I tried this straightening brush and oh my goodness do I love it. It literally takes me just a handful of minutes to do my hair now. I use it on the second-lowest heat setting and have great results. I've tried other straightening brushes and this one is by far and away the best.
Great
Ok I have many straightener but this one take a little getting use to but it works better than all the other ones I've ever used. I don't believe those YouTubers anymore cause they say that something work and they really don't when they give reviews. Three things I will say . 1. It takes a little getting used too. 2. Use it on the lowest sitting it gets too hot. 3. The buttons are in a place where you'll occasionally will turn it off. But it really works. If not send it back but I'm keeping mine.